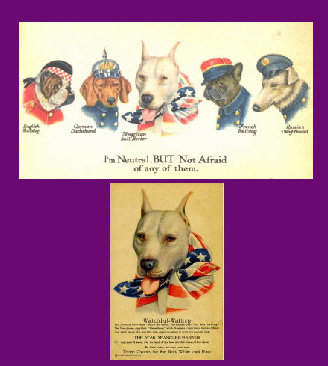 I Am Neutral BUT Not Afraid of Any of Them
This was a poster ad during WWI...
The top is the English Bulldog, German Duchshund,AMERICAN BULL TERRIER, French Bulldog,Russian Wolfhound..
The bottom poster reads...
WATCHFUL-WAITING
The Germans have their "Wincht am Rhein" the English play "Lord Save the King" the Frenchman sing their "Marseillaise" while the Russians chant their "National Hymn"
Our spirit shuns this war like ring: peace breathes in what we proudly sing
The Star Spangled Banner
And long may it wave, o'er the land of the free and home of the brave
By these colors we stand ever true
Three Cheers for the Red, White and Blue